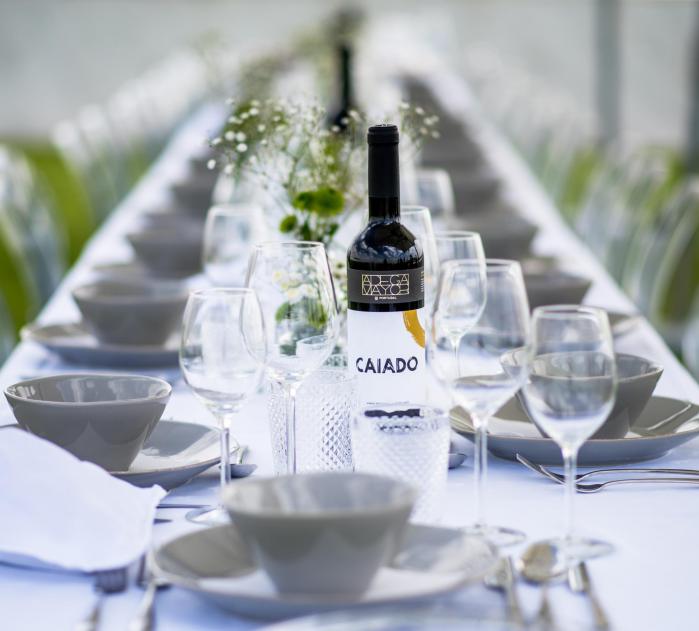 REGIONAL LUNCH
Type
Visit, Tasting, Regional Flavors
Ideal for
Curious People, Foodies, Couples, Families, Groups
Includes
- Ticket to the Centre of Coffee Science.
- Complete visit to Adega Mayor.
- Tasting of four wines, two red and two white wines, from the Caiado and Monte Mayor ranges, followed by the following lunch options:
> Regional lunch at Adega Mayor | 10 to 40 people
> Lunch at the Santa Beatriz Hotel Restaurant a Muralha | 2 to 70 people
> Lunch at Quinta das Argamassas | 80 to 300 people
Note
For those who so wish, another selection of wines will be available at the time of tasting, upon availability and against additional payment of the wine by the glass.

Visiting hours: Monday to Sunday (Except Holidays) | 10.00 A.M. - 1.00 P.M. AND 3.00 P.M. - 6.00 P.M.
DISCOVER THE CORNERS OF THE FIRST AUTEUR WINERY EVER BUILT IN PORTUGAL, DESIGNED BY ARCHITECT SIZA VIEIRA, AND THE MOST RECENT PROJECT OF THE GROUP, THE CENTRE OF COFFEE SCIENCE.